By: Brian McKown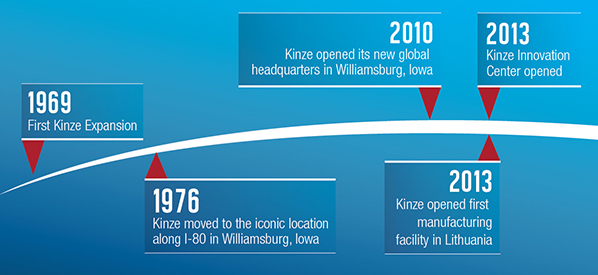 If you're not growing, you're dying – or so the saying goes. At the same time, growing too rapidly can leave a company stretched beyond its production needs and create financial perils that can be difficult to overcome.  
At Kinze, we have always pursued expansion cautiously - developing new facilities to keep pace with production, but never letting our dreams and ambitions carry us away from reality. Build to grow, not for show.
The first expansion took place in 1969. With repower work on John Deere tractors ramping up quickly, founder Jon Kinzenbaw knew the welding shop he'd opened in 1965 was simply too small to keep pace with the rapid influx of business. The addition of a new 5,000 square foot building gave the young company the space to serve current customers while also keeping an eye on the future.
An era of innovation ensued. In the coming years, Kinze introduced its first mass-produced product – an anhydrous applicator – as well as industry-shaping products like the two-wheel grain cart, the first adjustable width, flexing 12-bottom plow, and the first rear-fold planter.
With Kinze rolling out one new innovation after another, things had become pretty cramped in that 5,000 square foot building in Ladora. So in 1976, Kinze built new facilities at its present location along I-80 near Williamsburg. Here Kinze would design and build numerous products and innovations over the next three decades.
Through the first 40 years of the company, all major expansions and facilities improvements had been made to enhance production capabilities. With the company continuing to grow, gaining market share across the globe, leadership recognized the need to establish a
corporate presence on par with 21st century standards.
In 2010, Kinze opened its new global corporate headquarters in Williamsburg, Iowa. The accounting, design engineering, human resources, information technology, sales and marketing, and executive teams had a new state-of-the-art home.
Growing from a small welding shop serving local farmers into an equipment manufacturer delivering industry-leading products around the globe is quite a story. Wanting to tell that story in an experiential fashion, we opened the Kinze Innovation Center in 2013, giving our friends, family, customers and devoted fans a place where they can see, hear, touch and feel the Kinze story.
2013 was a busy year for Kinze. We also opened our first international manufacturing facility in Lithuania, giving us the production and distribution means to effectively serve growers throughout the eastern hemisphere. At the same time, we added 100,000 square feet of manufacturing space at our headquarters in Williamsburg, ramping up production capabilities to keep pace with demand for the new Kinze 4900 planter.
And that brings us to today. All in all, Kinze has grown quite a bit over the last five decades. But never too fast and always for the right reasons. It's a good way to grow.
Kinze - 1997


Kinze - 2014
Join our mailing list
Sign up to receive the latest news on Kinze products and innovation.